'SOIDADES DAS FALAS' AN ARTURO ÁLVAREZ´S SOLO EXHIBITION
This Friday Arturo Álvarez opens an individual exhibition in the Luisa Pita Art Gallery, under the name of "Soidades das falas" ('Talking Solitudes'), in which he will be showing his new collections of art. A work which seeks for a deeper insight into the human being, and their relationship with each other and their environment, with light as a background. A more intimate and personal expression path that provokes a reflection which goes beyond the aesthetic and reaches deeper into the transcendent, into life.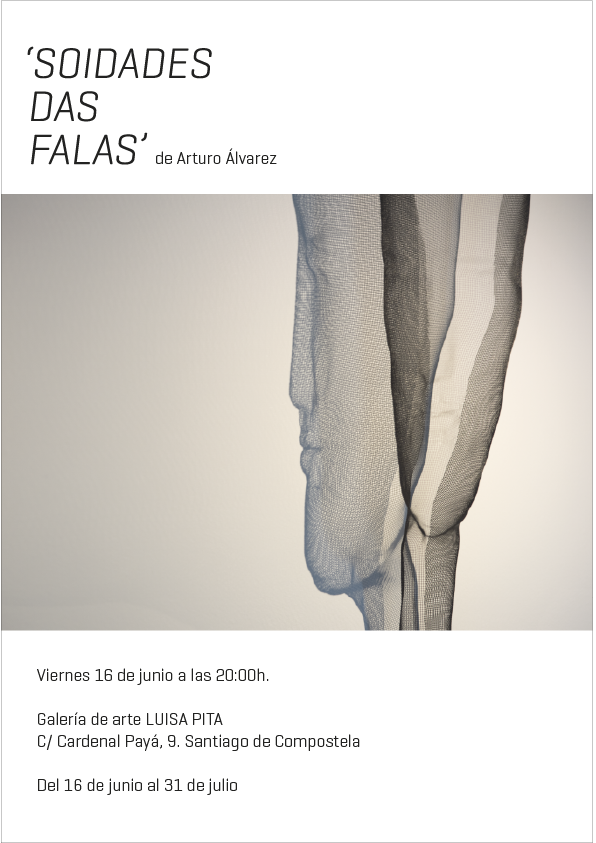 Conversas, Encontros and Agora are sculptures of airy bodies and curved shapes created from materials like steel, japanese cord, which project by means of light the strength of the human being, their vital energy and their capacity to make their way as individuals or groups. Arturo Álvarez explores human interactions and the communication among people through the play of lights and shadows, and the expressiveness of the pieces on their own or as a group.
After more than twenty years working with light as means of expression, the Galician artist and designer Arturo Álvarez is now one of the most recognised and innovative in the field of light design and research. His work brings together technology and contemporary art.
The multidisciplinary character of this exhibition inhabits Luisa Pita Art Gallery dominating the space with three large installations which have been thought of and designed to generate emotions, with the human being as the protagonist and light as the guiding thread.
Arturo Álvarez's pieces have been part of exhibitions in galleries and museums in Spain, London, NY and Tokyo. Acknowledged prizes like "Good Design Award" or "Best of Year," awarded by the prestigious New York magazine Interior Design, endorse his professional career.
Opening: Friday 16 June, 20,00 hours
LUISA PITA art gallery
C/ Cardenal Payá, 9. Santiago de Compostela
From 16th June to 31th July