PROJECT: "O ROMAÑO" CIVIC CENTER. SANTIAGO DE COMPOSTELA
Surrounded by little houses and a green landscape, the new civic centre of O Romaño –in Santiago de Compostela, close to our atelier– rises up like a compact and sober piece which adapts to the scale of the place. Two of our lamp designs, V and Fluo, light its spaces, projected to highlight the cultural and social encounter.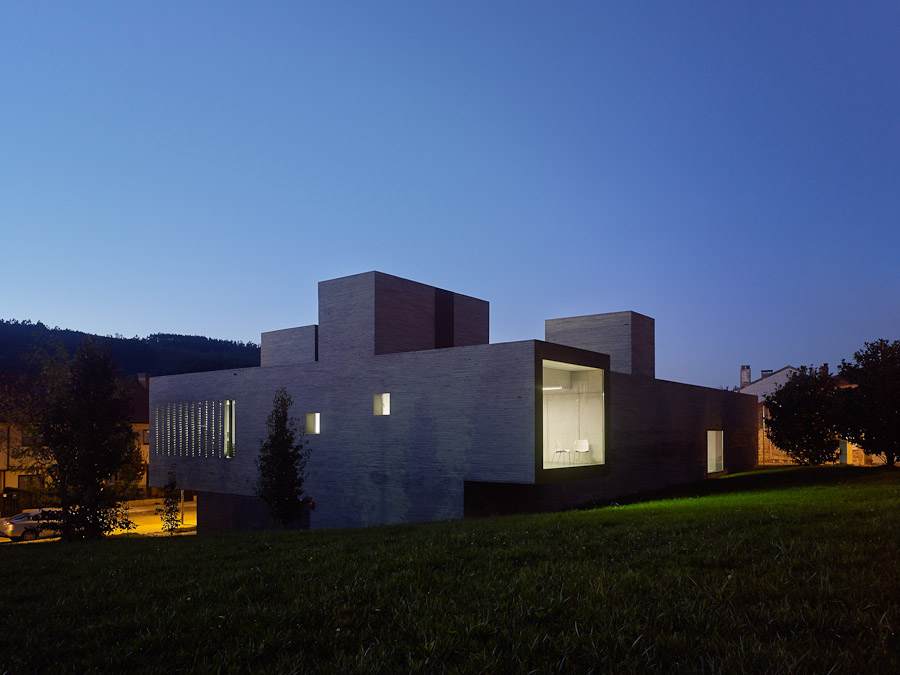 The centre, designed by the architects Abalo Alonso, is built around a two-storey void space with big skylights. The entrance hall is the heart of the building, a meeting point lit by the soft light of Fluo. This design by Arturo Álvarez imitates the fantasy of a vaporous fabric, like a semi-transparent tulle which reveals and hides at the same time, playing with the intuition of those who watch it. The lamp is made with painted steel mesh veils, a material which talks to the concrete, the slate and the whitewashed thermo clay in this space.
This big lounge leads to the different areas, like the multi-purpose room. Here our pendant V lamps, designed by Héctor Serrano, come on stage. Their almost spatial form and their geometric patterns immerse the spectator in an oneiric and fantastic world.
The building has received several awards, such as the first prize in the III Baku International Architecture Award (Azerbaijan), in the category of Public Buildings; and the finalist position in the VII International Bienalle Barbara Cappochin (Italy).